¡Volviendo a la infancia! Coraje, el perro cobarde regresa en una precuela
El perro más asustadizo de la televisión vuelve a nuestras pantallas con nuevas aventuras, esta vez transmitido a través de la señal de Boomerang.
La última vez que vimos a Coraje, el perro cobarde fue el 22 de noviembre del 2002, fecha en la que se transmitió el último capítulo. Desde ese entonces, muchos extrañamos las terroríficas aventuras de Coraje y su familia. Sin embargo, el creador, John R. Dilworth, hizo un anuncio en su cuenta de Facebook que emocionó a todo los que recordamos a Coraje.
«Para todos nuestros fans de Coraje… estoy profundamente conmovido por el amor por nuestro show. Estoy agradecido de que nuestro talentoso equipo haya sido capaz de hacer algo bueno en el mundo. Tengo noticias prometedoras… estamos esperando comenzar el desarrollo de una posible precuela de Courage the Cowardly Dog'titulada BeforeCourage para Boomerang! Manténganse al tanto de lo que pueda suceder. Quién sabe qué sucederá (O continúen escribiendo a Cartoon Network para que siga transmitiendo CouragetheCowardlyDog)».
A pesar de que ya se sabe que hay un proyecto en camino, todavía no hay información sobre los nuevos personajes que contendrá la serie animada. Solo se sabe que será una precuela llamada Before Courage (Antes de Coraje, en español) y que será transmitida en Boomerang.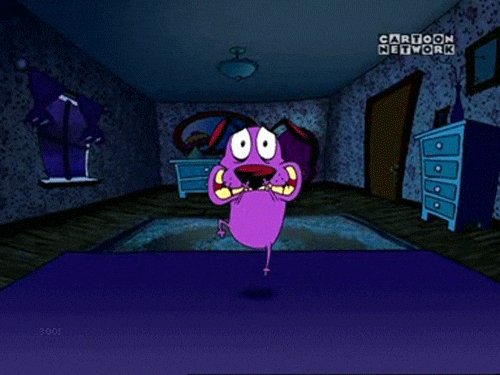 No obstante, no es la primera que vez que regresa Coraje. En el 2014, Cartoon Network transmitió un cortometraje de 7 minutos llamado The Fog of Courage que es un revival del capítulo piloto de la serie pero hecho con animación 3D. El corto fue un intento de regresar a Coraje a la programación de CN pero simplemente no le interesó a los directivos del canal, a pesar que fue un éxito de programación.
El desarrollo de una precuela es señal de que Coraje regresa para acompañarnos por un buen rato.
Coraje, el perro cobarde es una caricatura que nunca vamos a olvidar. Escenas como las de Justo diciéndole: «¡Perro, estúpido!» o el episodio donde sale La Máscara, son inolvidables para cualquiera que creció viendo esta comiquita. Esperamos que muy pronto podamos volver a ver las inquietantes aventuras de este perro rosa.